SI ran this photo several months ago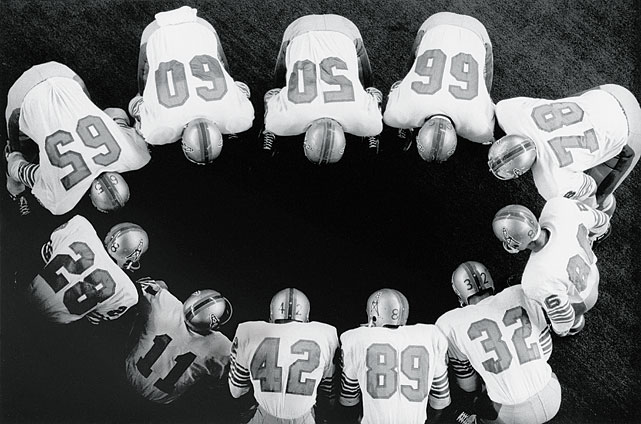 the caption said:
Oilers in Huddle
Houston Oilers vs. New York Jets
Astrodome
August 13, 1963
Neil Leifer/SI
we can rule out '63 because of the hemet...
according to profootballarchives.com, the Oilers played against the Jets in preseason
08/13/66 in Birmingham, AL
08/26/67 in Charlotte, NC
08/12/68 in Houston, TX
My first thought was: "It's '66, not '63"... but the game was played in Birmingham, not in Houston.
We can't even be sure the photo was taken during a game against the Jets
I think it's '68 because of the helmet, sleeves and pants stripes. What do you think?



Posts

: 148


Join date

: 2011-06-13



I would say '68 (again assuming it's against the Jets) for a simple reason: the "grass" they are standing on looks a little bit too perfect, which would mean it's astroturf--which the Astrodome had put in a few years earlier. Birmingham (presumably Legion Field) didn't put it in until 1970, and I'm not sure when any field in Charlotte did it.

In checking the NY Times story of the 8/12/68 game, it has a somewhat grainy picture of Babe Parilli being dragged down by an Oiler defender wearing a white jersey.



Posts

: 212


Join date

: 2011-06-24



The Astrodome didn't even exist in 1963, so their caption can't be right.



Posts

: 70


Join date

: 2011-06-12



Definitely an indoor game on astroturf. I don't recall domes in either Charlotte or Birmingham so I'll go with 1968 in Houston.



Posts

: 1248


Join date

: 2011-06-11


Age

: 46


Location

: Bradenton, FL



After a night's sleep, I'm even more certain that it was in Houston in '68: the exhibition game against the Jets was the Oilers' second-ever game in the Dome (even though it opened in '65), and SI figured they could probably sell a few more magazines with photos from their game with Joe Willie and the Jets, than against the first opponent--the floundering Redskins.



Posts

: 212


Join date

: 2011-06-24






Posts

: 70


Join date

: 2011-06-12



Unless someone rented a hot air balloon in Birmingham, I would guess it was at the dome as well
Admin




Posts

: 14


Join date

: 2011-06-10



You mean they didnt have the "Flying FOX-Cam" back then either???




Posts

: 1248


Join date

: 2011-06-11


Age

: 46


Location

: Bradenton, FL



Oh you silly boyz.

The game was played at the Astrodome and the pic was taken from a gondola that they had high at the apex of the dome. I think Lindsey Nelson actually called a baseball game from up in the gondola, when the Mets played the Astros in 1965.
The Oilers didn't have NOB's for their 1968 and 1969 preseasons and wore white at home in those exhibition seasons.
As for me being in the Astrodome's gondola?? Never!!! I have a major fear of heights.



Posts

: 138


Join date

: 2011-06-10


Age

: 60


Location

: Enola, PA




---
Permissions in this forum:
You
cannot
reply to topics in this forum