I have read the Rams official uniform history and there is no mention of a red and yellow uniform used in the 1949 season. Looking at the picture on the earlier forum make me think that they were red and yellow. I did find a picture of an over the ear hole horn an other site but it was a blue shell with yellow horns.
I, too, have fallen victim to "what's out there" on the Internet.  A popular site for helmet enthusiasts displays this helmet...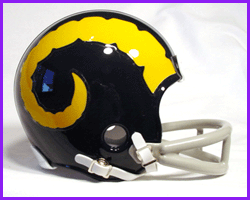 It is obviously not an authentic one but people take it for face value because...well... you know everything on the internet is true, right?
More likely, this is a model created to show what that site believed to be the 1949 design without doing any research into the matter.
We have based our 1949 Rams design largely on a single document. We possess a digital copy of a letter sent by Fred Gehrke to the HOF. In it he describes the process by which the Rams went to, and subsequently away from, the red design for a single season. One year earlier in 1948, Fred gained fame as he was the player who originally painted the horns on the Rams helmets.  We find him, and the letter, to be extremely credible on this topic.
Bottom line, any Rams helmets you see with the notched horns curving above the earhole - they should be red and not blue.
Here is an authentic 1939 helmet...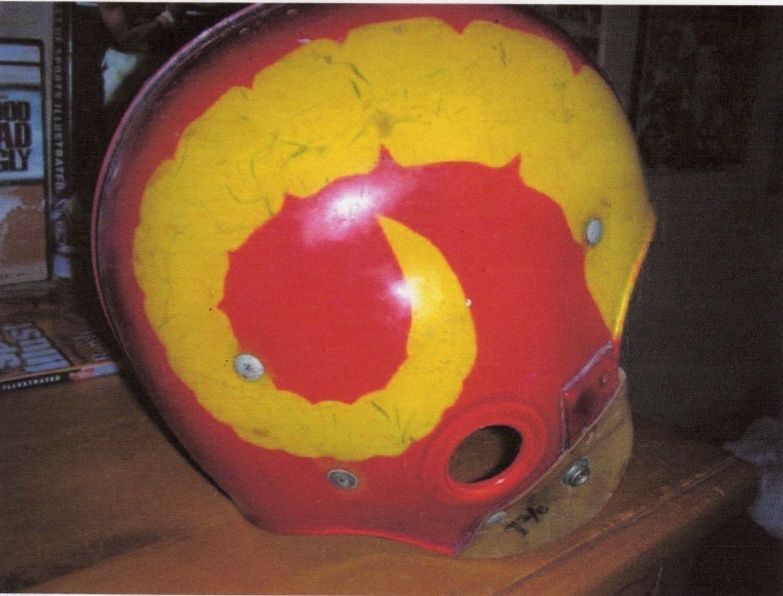 Last edited by Bill Schaefer on Sat Nov 14, 2015 7:34 pm; edited 3 times in total



Posts

: 1248


Join date

: 2011-06-11


Age

: 46


Location

: Bradenton, FL



Actually I am using the St. Louis Rams uniform chronology from their official site and Helmut Hut. I agree that that picture is not official in any way. The article on Helmut hut also has black and white pictures of the helmut being worn and I agree that it is very ambiguous as what colors they wore.
Bill -- If I may suggest: You guys should upload the Gehrke letter. By adding it to the historical record on the Internet, it would help researchers and debunk the misinformation.





Posts

: 215


Join date

: 2011-06-10


Age

: 43



Outstanding, Rob! Thank you for doing so.
In a similar vein (although not quite as crass as Shaughnessy's rumored reason), the Lions briefly changed their iconic Hawaiian Blue colors to Red in 1948 with the arrival of new coach Bo McMillin--who arrived from Indiana University, which wore red uniforms.



Posts

: 212


Join date

: 2011-06-24



Yes, very much so!

I would see photos identified as being from the late-'40s Lions and think them misidentified, because I was presuming the Lions had been Honolulu Blue and Silver continuously since moving to Detroit. In their recent publications, the Lions have acknowledged the various combinations of red and black the team used during the McMillin years, including an all-black combo and red jerseys with black pants. As is, of course, reflected on this website.

Also interesting is the simultaneous use of gold helmets and silver helmets, or blue helmets and silver helmets simultaneously, by the Lions in the early '50s. I've come across color Lions clips -- mostly from the three straight league championship games against the Browns in 1952-54 -- where Bobby Layne is wearing a gold helmet and Doak Walker is wearing a silver helmet.
Here are some pictures that I found while trying to do what research that I could do.



Similar topics
---
Permissions in this forum:
You
cannot
reply to topics in this forum