Just noticed something in the 1968 Saints highlight film: The Vikings in a purple jersey with no sleeve stripes, not unlike the jersey the Lions wore in their early-season game at Dallas.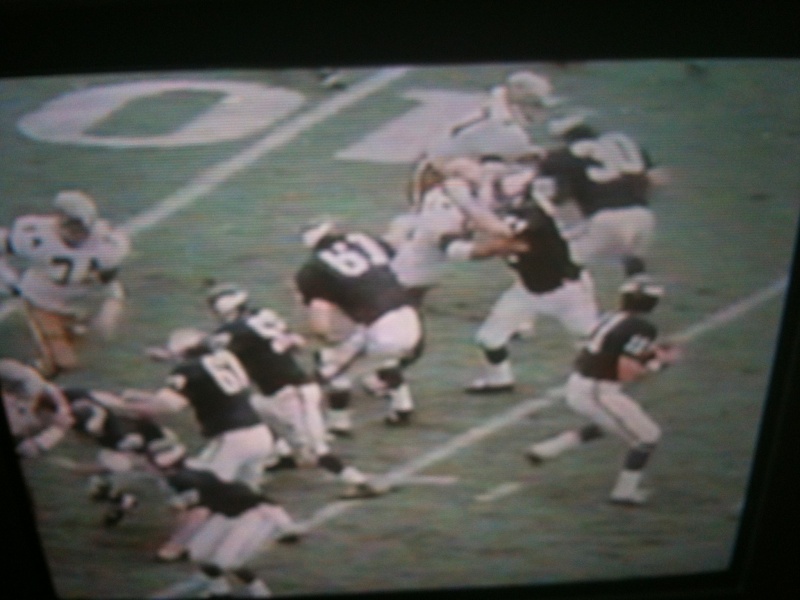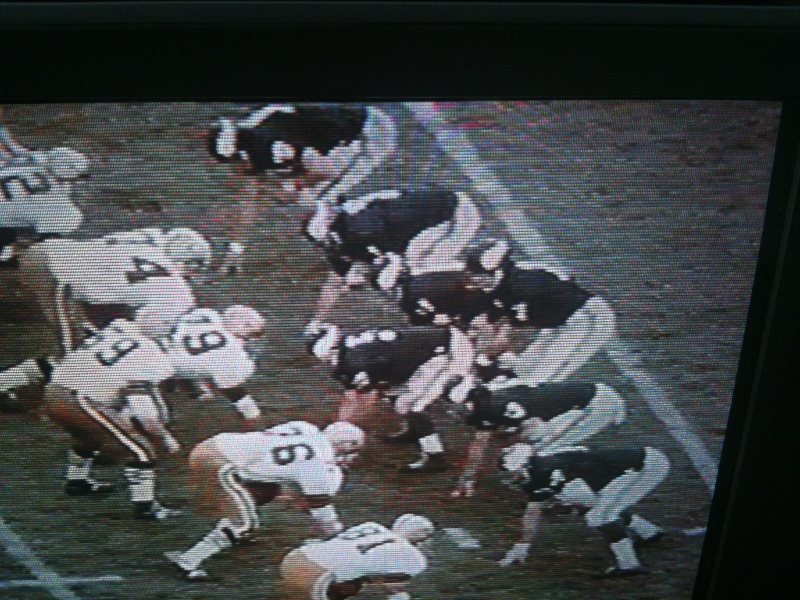 I apologize for the quality of the screencaps. It's what you get when you point a smartphone at a TV screen, you know?
Last edited by Tommy F on Fri Jan 13, 2012 3:59 pm; edited 3 times in total (Reason for editing : couldn't get photos to load initially)
Nice find. It's going into the pipeline to be fixed/added.



Posts

: 1248


Join date

: 2011-06-11


Age

: 46


Location

: Bradenton, FL



Excellent! That was half the fun of making the discovery: The realization "I know some guys will want this information!"



Posts

: 212


Join date

: 2011-06-24



Yes, that's what I was thinking, too. The Lions' jersey to which I alluded was worn in the '68 season opener, in the Cotton Bowl. It suggests that this was the year the NFL realized that, on an 80-degree day, the players could do without the sleeves which went halfway down the forearm.
BD,

I thnk Bill will confirm this, but we sorta had this pegged for 1968, but we weren't sure if the Vikies did indeed go stripeless, I just couldn't get a good pic/film from that MIN-NO to fully confirm. Tommy F's screen shots did just that and we thank him for the assistance.

So, the Vikes went from 1968 thru 1973 where they wore both the mesh-stripeless purples and the striped-durenes.

The dual mesh/durene styles seemed to end in 1973 as I would guess most of the jersey makers were finally able to conquer the problem of properly stitching/screening issues by 1974. Only a couple of rare instances extend from 1974 with striping issues, notably the Eagles, but that had to do with them using the wire mesh and the standard mesh jerseys.




Posts

: 138


Join date

: 2011-06-10


Age

: 60


Location

: Enola, PA






Posts

: 212


Join date

: 2011-06-24



Just happened to notice in the second screenshot above...

Notice the Saints linemen wearing 2 different stripe patterns on the sides of their pants.



Posts

: 1248


Join date

: 2011-06-11


Age

: 46


Location

: Bradenton, FL




---
Permissions in this forum:
You
cannot
reply to topics in this forum