is there a way to indicate what year or era each teams 1994 throwbacks ( and 2009 AFL) where for?
Here's a list of the year that each 1994 team was honoring:
http://news.google.com/newspapers?id=achaAAAAIBAJ&sjid=B3ADAAAAIBAJ&pg=3141,8319470&dq=throwback+jersey&hl=en
(page 18 of 42)
From September 15, 1994
Pittsburgh Post Gazette
: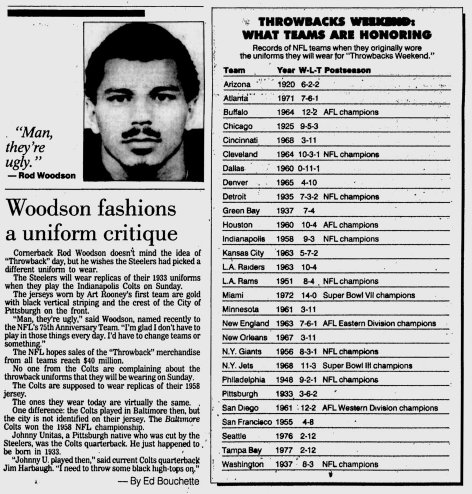 Last edited by Admin on Fri Jun 08, 2012 6:01 pm; edited 1 time in total (Reason for editing : Added newspaper graphics)



Posts

: 212


Join date

: 2011-06-24



thanks for the link. i typed it up so people can just view it

Arizona 1920
Atlanta 1971
Buffalo 1964
Chicago 1925
Cincinnati 1968
Cleveland 1964
Dallas 1960
Denver 1965
Detroit 1935
Green Bay 1937
Houston 1960
Indianapolis 1958
Kansas City 1963
L  A Raiders 1963
L A Rams 1951
Miami 1972
Minnesota 1961
New England 1963
New Orleans   1967
N Y Giants 1962
N Y Jets 1968
Philadelphia 1948
Pittsburgh 1933
San Diego 1961
San Francisco 1955
Seattle 1976
Tampa Bay 1977
Washington 1937
Last edited by smith03 on Mon Sep 22, 2014 8:45 pm; edited 1 time in total (Reason for editing : correcting Giants)
Actually the Giants throwback was from 1962.

They did a good job with them, but for some reason the NFL ordered the Giants to go with white pants with the blue jerseys, instead of grey. I don't remember why, I think it had something to do with TV but I don't recall. It never made any sense to me.



Posts

: 550


Join date

: 2011-06-12


Age

: 49


Location

: New Milford, CT



i was wondering about the giants as they did not have the ny logo in 56
The Cowboys wore their 1960 throwback uniform in the 1994 MNF game against Detroit:
Notice they are wearing their normal silver-blue helmets. I never understood why they didn't wear a white helmet to match the 1960 helmet. Unfortunately, what they wear and call a "throwback" today is nothing of the sort. It is navy blue rather than royal blue, and the opposite-color shoulders don't taper to the neck like the original 1960-63 uniforms did:
I understand the requirement to add a nameplate that NFL uniforms did not have prior to 1970. But the size of the current throwback nameplate is much larger than the nameplate on the 1994 throwback; it merges with the opposite-color shoulders to create a much larger yoke-effect than was the case in 1960. I just wish would honor the original Cowboy team by using royal blue and taper the shoulders where they meet the collar and sleeve, exactly as was done in 1994.



Posts

: 1


Join date

: 2012-05-23


Age

: 63


Location

: San Antonio, TX




---
Permissions in this forum:
You
cannot
reply to topics in this forum