I came across this photo in the SI Vault.
Although the 1956 date is most likely a mistake (it probably is from 1955), the reason I'm posting it is the fact that a number of the San Francisco players helmets are missing the silver center stripe.



Posts

: 423


Join date

: 2011-06-12


Age

: 48


Location

: New Milford, CT



The only regular season game the two teams played in San Francisco in 1955-56 was on 10/2/55. They did play exhibition games in SF each of those years, but looking at the long sleeves on some of the players makes that seem unlikely--although I'm aware of the chilly summer conditions that are part of the Bay Area's charm.



Posts

: 212


Join date

: 2011-06-24



Bill and I had a go around about this game. And this helmet. We decided to just go with the silver striped helmet for this one because although there were some variances, we felt that this was the only game the Niners played in '55 that had players in solid red helmets. I think Sports Illustrated didn't run any pics from this game until an issue in 1956.



Posts

: 138


Join date

: 2011-06-10


Age

: 59


Location

: Enola, PA



Well, we have an 8/28/55 and an 8/19/56 pair of preseason games with Cleveland at SF.
I guess it's possible that the '56 Niners could have worn the '55 jerseys in the 1956 Preseason.
That shouldn't be too hard to verify on newspaperarchives.com.

http://newspaperarchive.com/daily-review/1956-08-20/page-8/?tag=browns+san+francisco&rtserp=tags/browns-san-francisco?pd=20&py=1956&pm=08&pr=30

This link has a pair of faded photos from the 1956 game. While it does show definite silver stripes on the SF red helmets, it is hard to tell if the drop-shadows are present on the red jerseys. Also can't tell if the pants are the single, thick red stripe of 1956 or the 3 thin R-B-R stripes of 1955. Might have to check the rest of SF's 1956 preseason to maybe get a better look at the jerseys.

http://newspaperarchive.com/long-beach-independent/1956-09-15/page-13/?tag=rams+san+francisco&rtserp=tags/rams-san-francisco?psi=14&pci=7&pd=15&py=1956&pm=09

This link shows the Niners in mono-white with the drop-shadows AND white helmets for their night game 9/14/56 at Los Angeles vs the Rams. Can't check more than 2 games while at school today.

Rest of the 1956 49ers preseason looks like this...
8/19 - vs CLE - red jerseys, drop-shadow?, pants?, striped red helmet
8/26 - vs WASH -
9/2 - vs CHC -
9/9 - vs NYG (at Portland, OR) -
9/14 - @ LA - white jerseys with drop-shadows, pants?, white helmets
9/23 - vs PHIL (at Sacremento, CA)

Anyone want to fill in the gaps?

Due to the fact that SF has the striped red helmets would mean we would need to include a red helmet 'preseason only' version for the 1956 SF yearly image. Also, a white-helmeted mono-white uniform from 1955 would also need to be added as 'preseason only' for 1956.
http://newspaperarchive.com/san-mateo-times/1956-08-27/page-16/?tag=redskins+san+francisco&rtserp=tags/redskins-san-francisco?pd=27&py=1956&pm=08&pr=30

This page shows the Niners/Skins match-up on 8/26/56.
Niners have 'thinnish' stripes on pants which more likely seems it'd be the R-B-R pants of 1955.
Also wearing white helmets.
Red jerseys are unable to be diagnosed from the photos.
http://newspaperarchive.com/phoenix-arizona-republic-phoenix-arizona/1956-09-03/page-20/?tag=cardinals+san+francisco&rtserp=tags/cardinals-san-francisco?pd=03&py=1956&pm=09&pr=30

This newspaper shows a photo from the 9/2/56 Cards @ Niners game.
Of note, Niners in white helmets and, seen at the tackler's knee area, they are wearing the R-B-R striped pants.
Still impossible to tell about the present/absent drop-shadow.
This photo from the 9/2/56 Cards @ Niners game shows the Niners without the drop-shadow.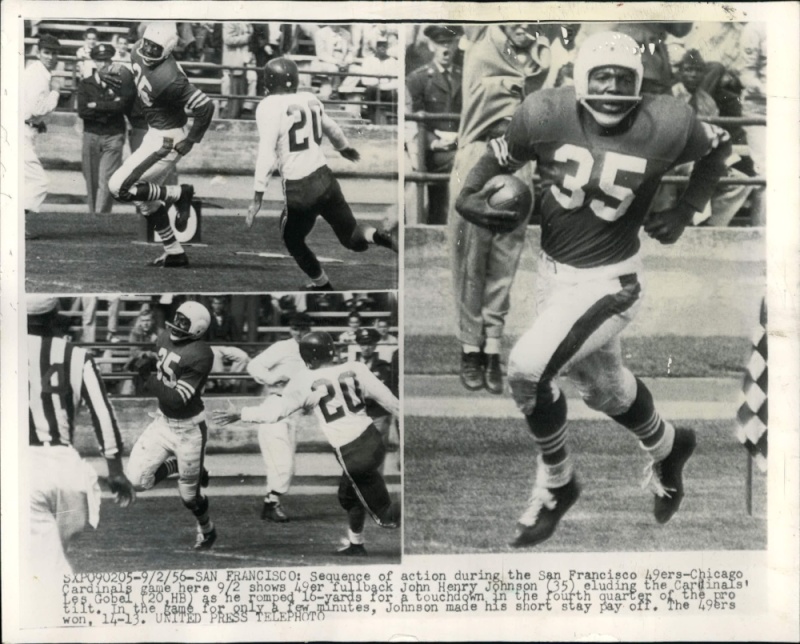 Posts

: 18


Join date

: 2011-07-09




Similar topics
---
Permissions in this forum:
You
cannot
reply to topics in this forum