Hi guys, this photo is really interesting...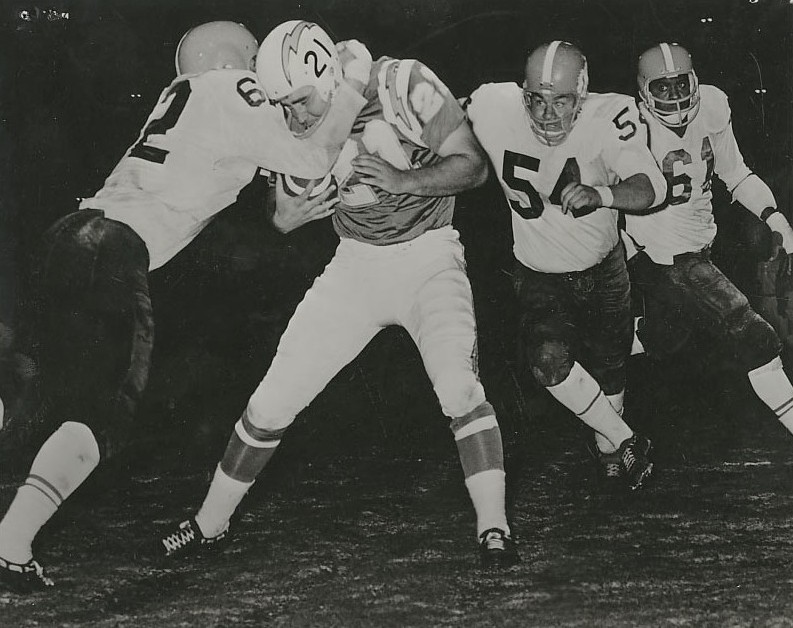 Dark (brown?) pants, white striped socks... what is going on here?
I'll bet this is from the 1962 preseason. They'd already changed the helmets, but they either did not have or did not want to break out the new uniforms. (The Charger does look like John Hadl, who wore No. 21 and was a rookie in '62.)

There are photos from the Packers' first preseason game under Lombardi in which they have the 1959 helmet stripes but are wearing the 1957-58 uniforms.



Posts

: 17


Join date

: 2011-12-23



I tend to agree, but look at the
WHITE
decal on #54's helmet. They started the season with the infamous blue/brown decal as far as we know.
http://gridironuniforms.forumotion.com/t189-1962-broncos
And the 1961 brown pants had yellow stripes, we never saw those white striped socks, too...
If I'm right #54 is Wahoo McDaniel (with the Broncos from 1961 to 1963) so it could be a 1963 presesaon game.
The problem is that the game (8/17/1963) was played in Denver (white at home?). The 1962 (8/18/1962) preseason game was played in San Diego.
On the Uni Watch forum Paul linked to this video which shows that the 1961 pants were still in use durig training camp in 1964.
https://www.youtube.com/watch?feature=player_detailpage&v=IhDOsjs4yvs#t=25s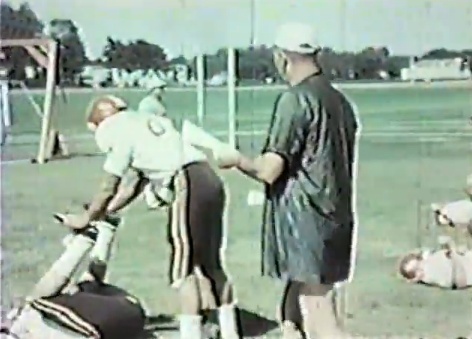 The first clip in this highlight-film segment appears to be from the game in question. Looks to be at Balboa Stadium.
https://youtu.be/iiU4eXvvo0E
<iframe width="420" height="315" src="https://www.youtube.com/embed/iiU4eXvvo0E" frameborder="0" allowfullscreen></iframe>



Posts

: 17


Join date

: 2011-12-23




---
Permissions in this forum:
You
cannot
reply to topics in this forum