This is a call out to those who specialize in the Raiders, or are willing to give us mods a helping hand in confirming the Raiders number fonts:

I have scoured the Oakland Tribune courtesy of newspaperarchive.com and gettyimages.com for the proper font of the 1's (flattop or "shaved") and this is what I believe to be the case:

WHITE JERSEY:
1963, 1964: Flattop (front/back/sleeves)
1965, 1966, 1967, 1968, 1969, 1971: Shaved (front & back), Flattop (sleeves)
1970: Flattop (back and sleeves), Shaved (front)

BLACK JERSEY:
1963, 1964, 1965, 1966, 1967, 1969, 1970, 1971: Shaved (front & back), Flattop (sleeves)
1968: Flattop (back and sleeves), Shaved (front)

If you concur, just a nod will do. If you disagree, please send visuals with - if possible - DATE of pic. The date of pic would be very helpful.

Thanks in advance, Gang!



Posts

: 138


Join date

: 2011-06-10


Age

: 59


Location

: Enola, PA



Negative on the flattop '68 black jersey.

Youtube clip from The Heidi Game:
http://youtu.be/MFNNf_Kysjk

Video quality is pretty bad, but right around 35 seconds, number 71 is shown clearly enough to see the one is shaved.

I don't have any objections on the rest of the list.
Last edited by The Jeff on Thu Jun 30, 2011 1:23 pm; edited 1 time in total (Reason for editing : ...video wouldn't embed properly)



Posts

: 17


Join date

: 2011-06-12



just a quick reply for now...
the Raiders could have had different style for the sleeves numbers in those years. We can easily find two players with different number style in the same game.
Jeff, look at this photo from the Heidi Game... Flattop, no doubt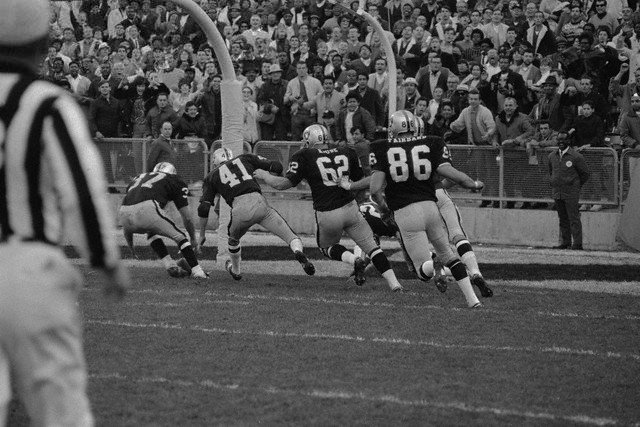 Now a couple of photos from 1971 where you can see the "shaved" font for the sleeves numbers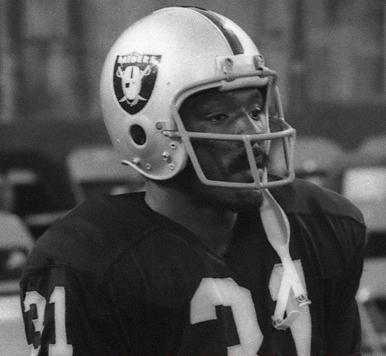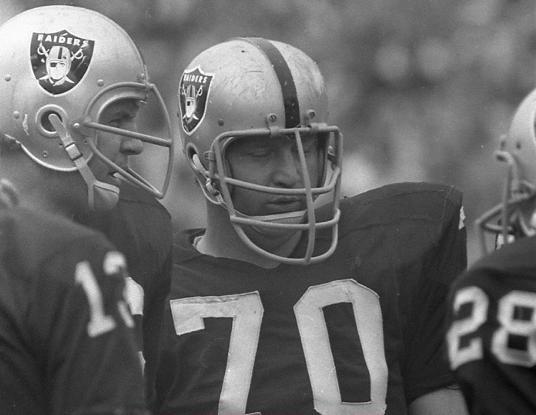 Wire photo, 1971

back of the photo:
http://i48.servimg.com/u/f48/16/58/29/23/1971_b13.jpg
Blanda 1971-oct-31 vs Chiefs

the Raiders have used for years a font (for sleeves numbers) that is a mix between flattop and shaved... something like this:
as here
http://www.gettyimages.it/detail/97408535/Getty-Images-Sport
and here
http://www.gettyimages.it/detail/82907347/Getty-Images-Sport
depending on the angle it can mislead the viewer
I will continue the search
1969: Shaved (front/back/sleeves)
best shot: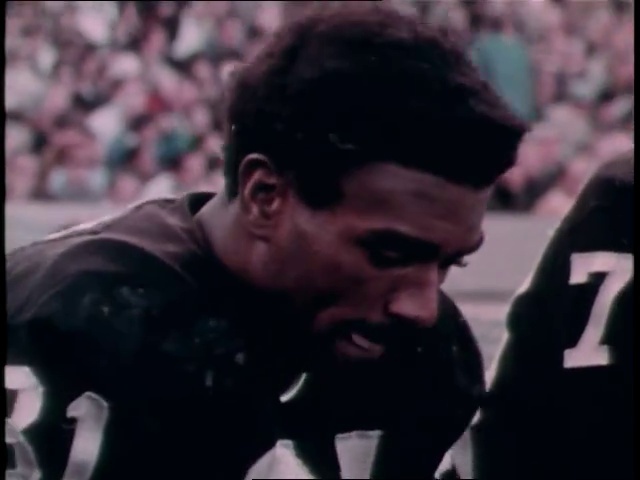 (Warren Wells - week 10 vs Chargers)
As an aside
but then, out of nowhere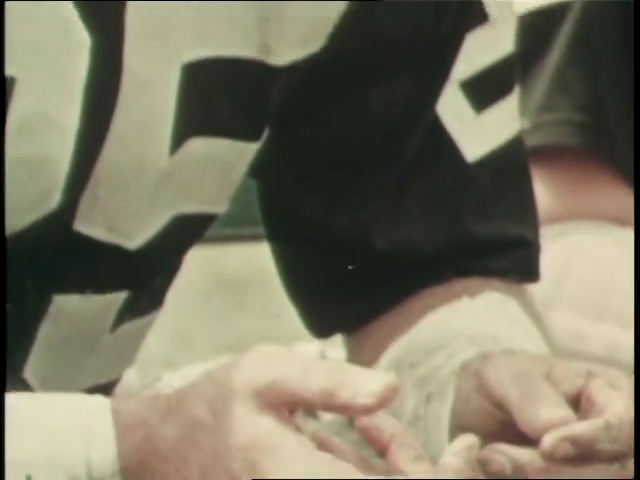 (Fred Biletnikoff - I think it's from week 9 vs Broncos)
We also have the Raiders wearing white jerseys with black torso numbers but outlined silver TV numbers.
Since these are obviously different jerseys, do we know if these, too, were boxed like the other white jersey 1s or if they were shaved?





Posts

: 1243


Join date

: 2011-06-11


Age

: 45


Location

: Bradenton, FL



While still looking for clear photos of the 1 for 1963-1971...
In the database you have this for 1962
I don't think they changed font that year, they simply removed the outline, as far as I'm concerned.
I don't have photos showing the 1 but all other numbers were unchanged
If you have any photos showing that style, please post them here
thanks
December 6, 1970 vs Jets
I post this photo because of the silver belt... it's the first time I noticed it... I really don't know if it was the norm that year (you have black belt in the database)
I have yet to find a photo of tha back of the jersey and sleeves with #1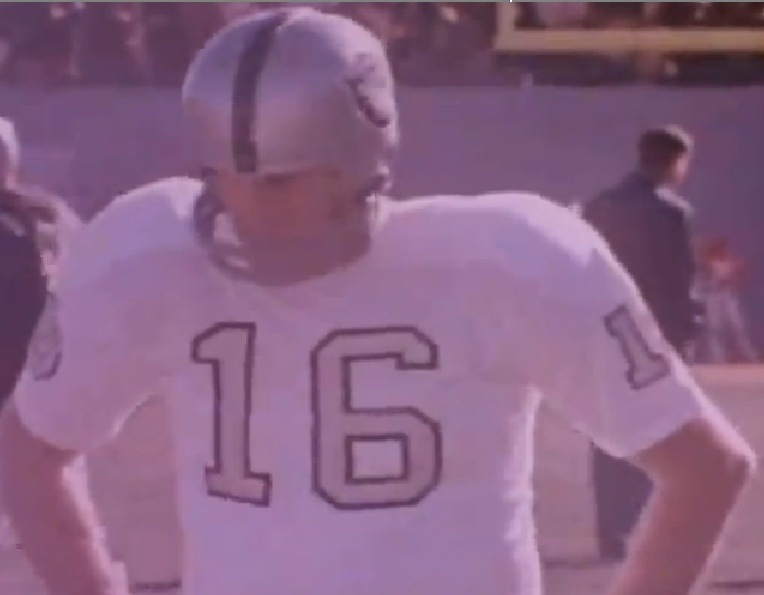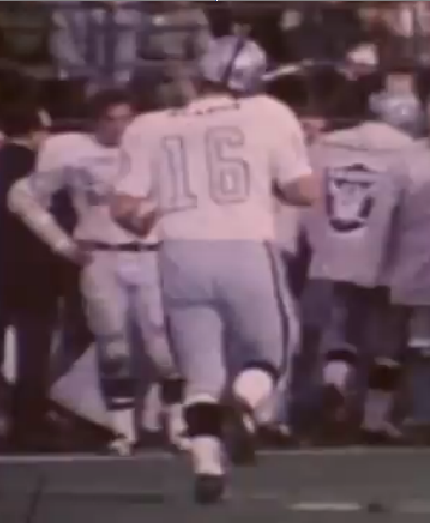 Nov. 15, 1970 vs Broncos
(black belt for Lamonica and other players)
The Raiders jerseys in question were made by Sand-Knit. In those days when they bought the uniforms from local sporting goods stores the teams didn't pay much attention to things like numeral fonts. As long as the shirt was numbered it was OK. Witness the mish-mosh of fonts on some early '60s Steelers jerseys.

As to the Black & Silver all of those numbers in question used Sand-Knit's stock font. The different shape of the "1s" are what Sand was using in that particular year. The flat-top "1" was used by several teams in the 1960s including the Raiders, the Vikings and the Falcons. Sand changed to the more-conventional chiseled "1" by the mid-'70s and also eliminated the truncated jag in the middle of the "5" at the same time. The style of numbers used by most teams today is the upgraded version of Sand-Knit's font introduced by Medalist-SandKnit (later MacGregor/SandKnit). Also you may note that the 4" TV number "2" on the Raiders shirts has no serif on the bottom bar (Freddie B).

We were a Sand-Knit dealer as well as Powers, Spanjian, King-O'Shea, Coane and MacGregor (the real MacG) in those days so I am very familiar with the numbering idiosyncracies.



Posts

: 2


Join date

: 2011-08-30


Age

: 69


Location

: Livonia, NY




Similar topics
---
Permissions in this forum:
You
cannot
reply to topics in this forum