One of our contributors, Leo Strawn, Jr., sent in this photo...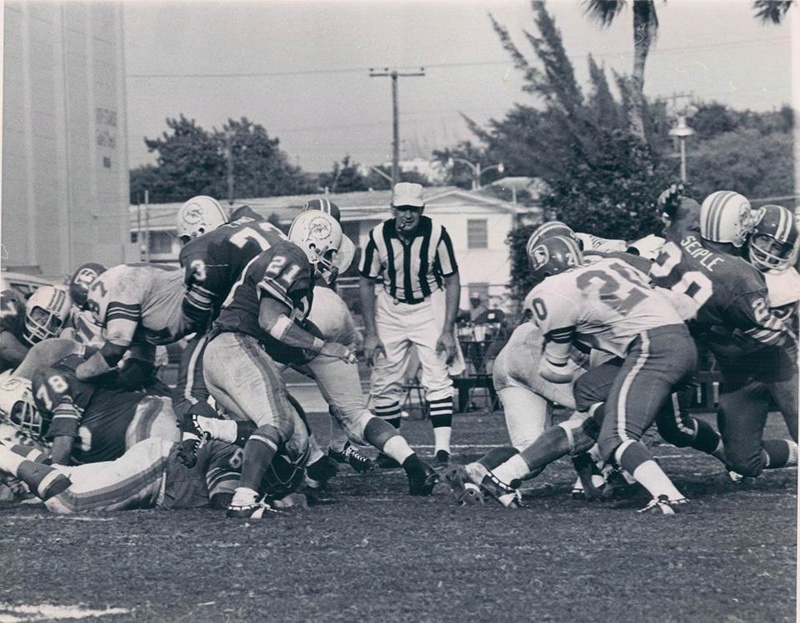 Here's what he said...
"I'm betting this is a December 6, 1969 scrimmage between Dolphins and Broncos in Miami/Ft. Lauderdale area. The photo was certainly taken in Florida and the only thing I can think of is that it was a scrimmage before the Dolphins and Broncos played at the Orange Bowl on December 7 (Miami 27, Denver 24).
Miami Dolphins: We know it's Evans and Seiple for sure (names on back are visible).
#73 Norm Evans (1966-75).
#20 Larry Seiple (1967-77).
So it has to fall between 1967-75.
Other identifiable Miami numbers are #78 Maxie Williams (1966-70) or Wayne Mass (1971) or Jim Dunaway (1972) or Tom Drougas (1975-76) and #21 Gene Mingo (1966-67) or Jim Kiick (1968-74).
So it has to fall between 1967-72 (no #78 on Miami roster in 1973-74 and no #21 in 1975).
Denver Broncos:
#87 Rich Jackson (1967-72).
#20 Charlie Greer (1968-74).
So it has to fall between 1968-72 (no #20 on Denver roster in 1967).
Other identifiable Denver number is behind Greer. The first number is "5" and his name starts with "H". The only Bronco that could be from those years is #57 John Huard (1967-69).
So it has to be 1968 or 1969.
Denver wore this uniform combo in 1968 and 1969.
AFL officials wore black and white (like NFL officials) in 1968 and 1969.
But, Miami wore solid color socks with no striping and dolphin head was inside the sunburst in 1969, not '68.
So, this is from 1969.
And it's not a preseason game that I can find any info on. The Dolphins and Broncos played preseason 1966 at the Liberty Bowl and 1967 at the Rubber Bowl in Akron and didn't play each other in preseason again until 1981.
Thoughts?"

Bill Schaefer




Posts

: 1268


Join date

: 2011-06-11


Age

: 47


Location

: Bradenton, FL



My first thought is that I wouldn't want to scrimmage a team I was going to play this week for fear of 'showing too much.'
Maybe they scrimmaged AFTER the game on Monday, Tuesday, or Wednesday if Denver was snowed-in or something before their last game of the season - at home against Cincinnati.
If I was Denver, I'd rather practice in Miami for a few days in December rather hurrying back to Colorado to practice.
It's not like Denver was a playoff team, and frankly, in 1969, neither were the Dolphins.

Bill Schaefer




Posts

: 1268


Join date

: 2011-06-11


Age

: 47


Location

: Bradenton, FL



I answered this elsewhere, but believe it or not, this is the Orange Bowl...the 1969 game. The open of of the stadium, particularly pre-1970, allowed for unusual views into the street when viewed from certain angles. When you see a wide enough view of the Orange Bowl, even in it's latter days, you'll see how this was possible.

dirwuf




Posts

: 35


Join date

: 2011-06-12


Age

: 59


Location

: Fairfield, CT




Bill Schaefer




Posts

: 1268


Join date

: 2011-06-11


Age

: 47


Location

: Bradenton, FL




---
Permissions in this forum:
You
cannot
reply to topics in this forum